Take advantage of our most advanced weapons simulator
Kolskoot for Windows provides you with all the modules necessary for a well-rounded weapons training platform. Setup is quick and easy and can be done in less than 15 minutes, making this an excellent portable simulator. Automatic screen calibration and robustness towards bad or changing light conditions allow you to spend less time setting up and more time training!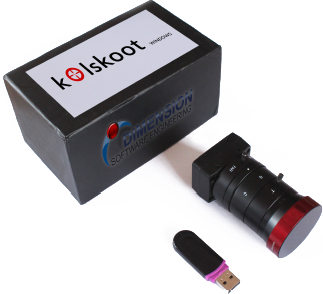 The base system includes the following:
Camera and lens
Software

Laser detection system (Red, IR, live fire)
2 lanes simultaneous (optional up to 4)
7 tarets with scoring (more coming soon)
Pistol, assault rifle, hunting and skeet exercises
Training videos
Add your own videos

Does not include:

Computer
Projector and screen (see specifications below)
Tripod camera mount
Weapons
Weapons
Any gun with a rail can be used, including dry firing a real firearm. Airsoft pistols with gas blowback offers the most realistic training experience.

Shot detection
Extremely accurate laser shot detection in both red and IR will detect all types of short flash lasers in operation today.
It can also detect live fire in special paper screens.
Extremely accurate, less than 100 μ Mills depending on the layout. 1/10th of a millimetre on the target at 100m distance.
Online database
The software includes an online SQL database. It saves all the individual shots within an exercise, and forms a complete record of shooting training of any individual. The database is hosted securely and backed up once a day. Only available if you have an internet connection.
Register your company online and manage trainees through a web connection.
Database is only available if yo have an internet connection.
Warranty
All components carries the manufacturer's warranties.